Team Wisconsin
Team Wisconsin Inline Racing Wants You!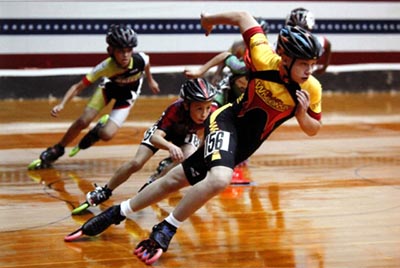 Like to skate fast? Do you like the "races" during session?  Take it to the next level!
We are currently seeking people of all experience levels and ages, from Tiny Tots (age 3) to Grand Esquire (age 60+) to join our nationally ranked speed skating team.  If you like to skate fast and love to win  we'd like you to join with us!
Our team members compete in both indoor short track (100 meter) and (optionally) outdoors in half and full marathon events both in the Great Lakes region and nationally.
Coach Laufer has over 30 years of coaching experience and nearly 40 national speed skating titles to his credit.
Coach Laufer National Record Stats:
2014 500M 0:47.843
2014 700M 1:07.717
2014 1000M 1:38.827
Questions?  Please talk with any of our team members or Coach Laufer. He may be contacted at (920) 206-0129, via email at marty@skateexpress.com  You can also stop by Skate Express  during normal skating hours or during practice.  Team Wisconsin practices are Monday from 6-8 pm, Wednesdays from 6-8 pm and Saturdays from 10am to noon at the rink.
---
TEAM WISCONSIN CURRENT RESULTS:
TEAM WISCONSIN Speed Team came home from Lincoln, NE from the USA Roller Sports Indoor Speed National Championships with 6 First Place Medals, 2 Second Place Medals and 2 Third Place Medals.
We are so proud of our skaters, the represented incredibly. They skated hard, never gave up and showed great sportsmanship.